Vous êtes ici : Page d'accueil > L'Actualité fantasy > Trône de Fer
Game of Thrones : feu vert pour la saison 3 !
Par Gillossen, le mardi 10 avril 2012 à 19:00:58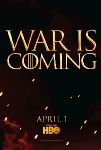 Et pour le moment, on n'en saura pas plus, notamment concernant le découpage ou pas de A Storm of Swords...
Mais HBO vient en tout cas de dévoiler un communiqué de presse tout ce qu'il y a de plus officiel pour signifier... l'officialisation justement d'une saison 3 pour l'adaptation du Trône de Fer, ce qui ne faisait plus guère de doute, étant donné le démarrage de la deuxième.
Plus de détails sans doute tout bientôt !
HBO RENEWS GAME OF THRONES FOR THIRD SEASON
First Episode Of The Second Season Has Already Grossed 8.3 Million Viewers

LOS ANGELES, April 10, 2012 – HBO has renewed GAME OF THRONES for a third season, it was announced today by Michael Lombardo, president, HBO Programming.

"Series creators David Benioff and D.B. Weiss raised our expectations for the second season – and then surpassed them," said Lombardo. "We are thrilled by all the viewer and media support we've received for the series, and can't wait to see what Dan and David have in store for next season."

Based on the bestselling fantasy book series by George R.R. Martin, GAME OF THRONES is an epic drama set in the world of Westeros, where ambitious men and women of both honor and ill-repute live in a land whose summers and winters can last years. The Emmy®- and Golden Globe-winning fantasy series began its ten-episode second season Sunday, April 1 (9:00-10:00 p.m. ET/PT), with other episodes debuting subsequent Sundays at the same time.

Among the early critical praise for the second season, Newsday called GAME OF THRONES "the best show on television," while the Los Angeles Times termed the series "a cinematic feast" and "masterful." The Wall Street Journal hailed the show as "magnificent" and USA Today called it "near perfection."

According to early data, GAME OF THRONES' season two premiere has already accumulated a gross audience of 8.3 million viewers, and is on track to easily surpass the season one average of 9.3 million viewers.

Season two cast members include: Emmy® and Golden Globe winner Peter Dinklage, Michelle Fairley, Lena Headey, Emilia Clarke, Nikolaj Coster-Waldau, Aidan Gillen, Iain Glen, Kit Harington, Richard Madden, Maisie Williams, Isaac Hempstead Wright, Sophie Turner, Jack Gleeson and Alfie Allen.

Season two credits: The executive producers of GAME OF THRONES are David Benioff, D.B. Weiss, Carolyn Strauss, Frank Doelger; co-executive producers, George R.R. Martin, Vanessa Taylor, Alan Taylor, Guymon Casady, Vince Gerardis; produced by Bernadette Caulfield.
Discuter de Game of Thrones sur le forum
Dernières critiques
Derniers articles
Plus
Dernières interviews
Plus
Le héros de la semaine
Retrouvez-nous aussi sur :